[ad_1]

May is Asian American and Pacific Islander Heritage Month so Comic Years is highlighting some of our favorite actors, actresses, writers, and illustrators from the AAPI community (check out our DC Festival of Heroes review, who is Simu Liu post, and who is Gene Luen Yang). In today's post, we're wondering: who is Diana Lee Inosanto?
Inosanto was born May 29, 1966, in Torrance, California. She's the daughter of Dan Inosanto, a Filipino American martial arts instructor who is best known as a training partner of Bruce Lee, and the goddaughter of the latter martial arts legend. She grew up surrounded by the martial arts world, which makes sense since she later became a sought-after stunt double and fight choreographer, most notably for Buffy the Vampire Slayer, Alita: Battle Angel, and Star Trek: Enterprise. Last year, Inosanto published her first book, the children's story The Curious Mind of Sebastian, with her autistic son, and she also contributed a foreword to the Fiaz Rafiq book Bruce Lee: The Life of a Legend.
What Is Diana Lee Inosanto Known For?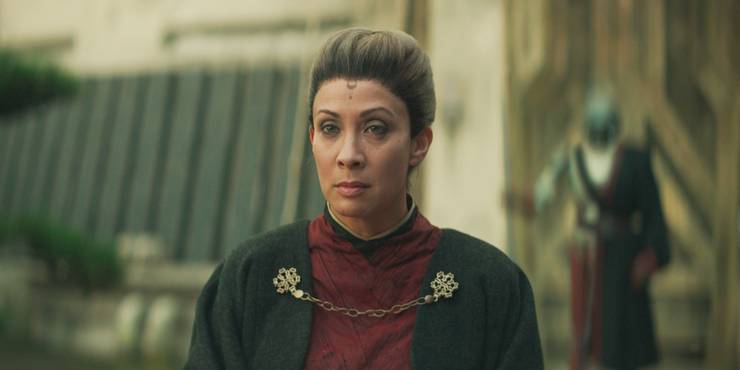 Image via Disney+
Inosanto most recently appeared in the Disney+ series, The Mandalorian, as Magistrate Morgan Elsbeth, but she's had small roles in several other action, comic book, science fiction, and horror movies: Pamela Anderson's Barb Wire, playing a vampire in Blade, and portraying an Eloi in the 2002 remake of The Time Machine.
While having Magistrate Elsbeth come back for Season 3 of The Mandalorian would be huge, especially now that we know she's connected to Grand Admiral Thrawn, it's unknown whether either character will make an appearance. They could both end up on the Ahsoka spinoff, but it seems like we'll just have to wait and see!
On Perseverance, Culture, And Diversity
As someone that grew up in a multiracial household, Inosanto learned from a young age that there was beauty in diversity. She studied a variety of martial arts (Capoeira, Wushu, Jun Fan Gung Fu), but when she started working in Hollywood, she started to receive a lot of pushback. She admitted that being mixed race was a double-edged sword:
When I was younger, as an actress, it was really hard to penetrate Hollywood, and because I was mixed, I wasn't either white enough or I wasn't Asian enough. They thought maybe I looked Spanish, but my Spanish was… it wasn't second nature to me. It was kind of hard because sometimes you would hear people say things. I think they forgot that I was half Asian, and they would say things that were inappropriate.
As Inosanto got older, she noticed that she was getting fewer stunt work opportunities when compared to her male counterparts. Instead of wallowing in despair, she was inspired by advice from her mom and "Uncle Bruce": "To hell with circumstances, I create opportunities." She started to take notes on film sets and eventually, she wrote, directed, and starred in the 2008 independent film, The Sensei, an action-drama about a proficient martial artist training a bullied gay teenager.
Are you a fan of Diana Lee Inosanto's work? Do you think her role as Magistrate Morgan Elsbeth will be reprised in Season 3 of The Mandalorian or one of the other spinoffs? Let us know in the comments below!
Featured image via screengrab
Keilin Huang is a freelance writer that likes the Oxford comma, reading from her neverending pile of books from the library, and Reeses peanut butter cups. She thanks her Dad for introducing her to his Superman comics and probably majored in Journalism because of Lois Lane.


[ad_2]

Source link